Not surprisingly we have been pretty busy lately. I feel bad because while I love blogging (more of reading other peoples blogs...) it has unfortunately become dead last priority. I would like to catch up a little though. Before Abby & Daddy arrived I stayed up with my parents and the boys were spoiled with nightly scooter rides (according to Sam it is granddads gooooter) down to a gorgeous flower garden!


The boys loved to walk around and smell all the flowers and sit on the little bridge. Liam is really funny and dying to figure out how to jump. He gets WAY down low and then jerks his body up but his feet never leave the ground.


After a lap or two around Sam would throw on his bike helmet and he and granddad would gooter on home. I caught the cutest picture as they zoomed past the house on night. He literally looked like if he were any happier he would burst. (its on my parents camera... gotta remember next time I am up there.)
They loved playing in the backyard, Liam particularly liked the dog bowl.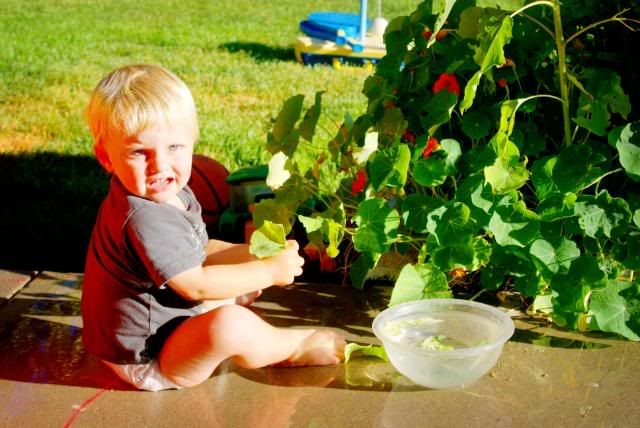 Unfortunately we learned the hard way that neither boy is allergic to bee stings as they both were stung twice. Sam now has a health fear of them though and we are trying to teach him that everything that flies is not a bee.
We also participated in swim lessons with Fischer and Lucy!!!


Sam LOVED it and much to my surprise was the thread that held the lessons together apparently. We had a rough morning one Thursday and left Liam at home. Sam refused to get out of the car at swim lessons and was crying for "his Liam". I of course dragged him out and over tot eh pool where both Fischer and Lucy were waiting neither of which would get into the water with out Sam, who continued to cry and throw a fit until I finally gave in and we went home skipping lessons to his precious Liam. Who I am sure within five mins of being home he hit.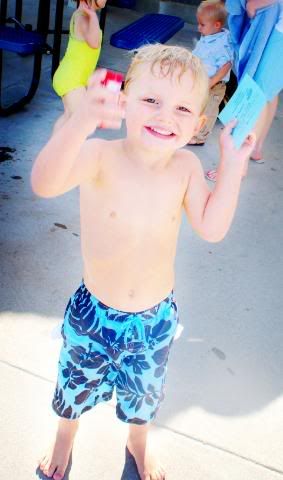 I had a blast talking with Jordan and Kristen and joking about the flirting going on between our teacher and a lifeguard :) ON the last day the kids got a report card (which was not filled out, whats up with that) and a treat! I am glad his first lessons were such a good experience.
We had fun celebrating the 24 of July with Chris's family and lots of food and fire worls!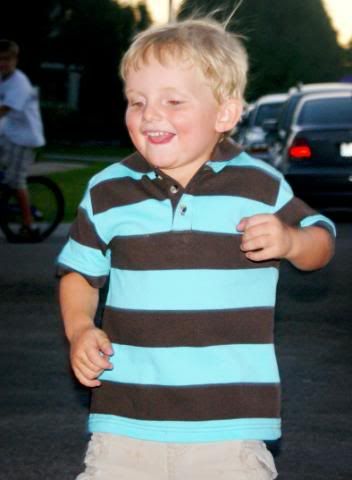 Sam had so much fun running around crazy with all 20 of his cousins!


Since Abby has been born the pace has really picked up. She is such an angel baby but that might have something to do with the fact that there is ALWAYS someone wanting to hold here. I think the longest she has been put down is a diaper change ;) That's what happens when you have a big family full of girls!


It is wonderful when we go out to eat with family, like we did for Christopher's Aunt Beverly's, because I actually get to use both hands to eat because Abby is being passed around :)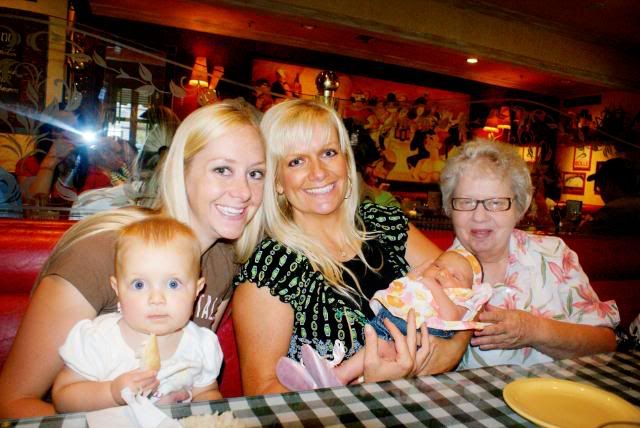 I must say I didn't realize how much I needed a girl until she came. She already adds so much to our family. And another big plus is how much more fun girls are to dress!!!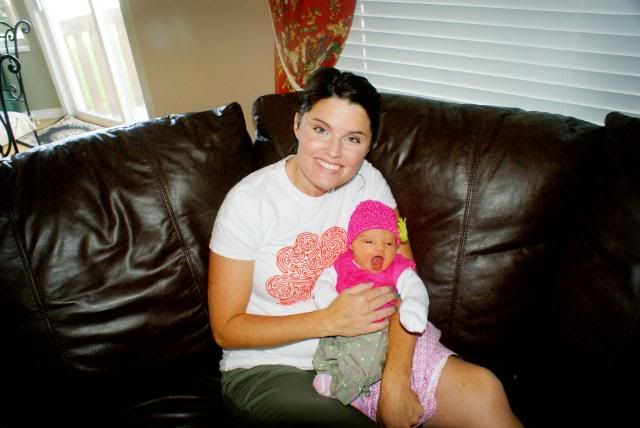 It is amazing though how seamlessly Abby has fit into the family. I boys act as if she has always been here and are already very protective of her. She has already completed one full night of sleep with out waking up :) and certainly has her daddy wrapped around her finger. What a blessing!