One of Chris's six sisters Melony and her fun family were able to come out and visit the week after graduation! While we had to do all the touristy things first thing was first. Sam turned three!! We had a fun birthday dinner at the complex the Swanson's and Crawford's were staying at. It was a gorgeous evening perfect for a BBQ in a gazebo or what Sam lovingly refers to as "his birthday house." (Soooo cute!). Aiden was very obliging with his picture taking and requested that I snap this shot:


He is such a shy boy I really worry about him --- NOT! Sam of course received lots of trains and well lots of trains :) He picked out his own birthday cake (I know a store bought cake it is blasphemous of me but hello I had a TON on my plate and I REALLY like Ukrops frosting).


Earlier in the day we had hit up the wonderful farmers market and taken the fam on a tour of the undergrad campus. The kids particularly like all the canons that dotted the campus.


It was also really fun to discover what a ham our nephew Aiden is. He was posing all over the place for me!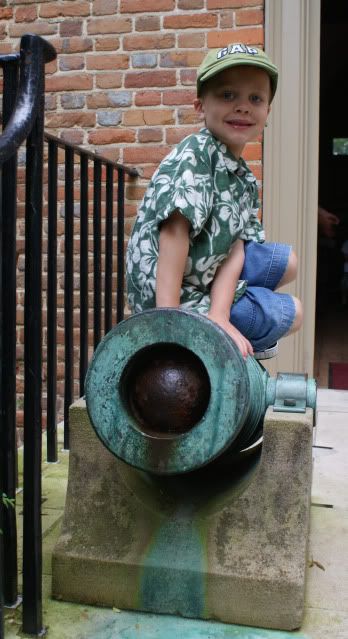 We just happened to be there on a Saturday when they were having a fife and drum competition. It was really fun to watch the MANY different groups and pity them for having to march in such hot weather in full regalia.


The flowers were absolutely gorgeous and I was so excited for my mom (an avid gardener) to get to see all of them! Of course I had to torture my little sister by taking some pics


Being from Utah and this being their first time on the East Coast the kids really wanted to go to the beach. We had already planned a full day down at VA beach but thought it would be fun to take a little trip down to Yorktown Beach to at least give them a little time in the sand and water.


They loved it and dove right in! Liam had fun playing with his bulldoozer and letting the water lap up onto his little leggies.


Sam absolutely LOVES his cousins whom he refers to as "my friends". He was always asking "where did my friends go?" "Are my friends coming in Sammy's car?" I think he is really going to enjoy or stint back in UT!