Today is Liam's Second birthday. He is a VERY good little boy. We have been so blessed and are realizing i more and more. He loves to go with the flow, give hugs and plays nicely by himself. He is a great napper and an even better eater. While he gets a little rough with younger kids on the playground and is very territorial Chris and I couldn't be more crazy about him and neither could his brother. Liam is Sam's safety blanket. He is always making sure that Liam is near by and hates to go anywhere with out him (school being the only exception-- thank goodness for that). Liam is currently obsessed with Toy Story, but he also loves Curious George or as Chris and I call it (written as it sounds not is spelled) horhey curioso. We decided to go with that theme for his birthday party which we held in UT in tandem with his cousin Ava who was turning one. We held it at Robyn's park that also had a fun splash zone (that I forgot about hence the naked Crawford kids). My amazingly talented friend Christa has just started a Cake company and I commissioned her to make a curious George cake. Didn't she do an amazing job!


She gave me some cards and they were all gone by the end of the party! The kids all loved it and couldn't wait to eat it. And man when we ate it was it GOOD!!!! Chocolate Cake with Chocolate ganach (spelling?)! We had a big yellow pinata for the kids to whack. After it was broken open Liam discovered that part of it made a great hat!


When it was time to open presents I made the mistake of giving him the present from my parents first. I knew what it was and that he would LOVE it. It was a Woody doll where you can pull the string and it talks, and he has a hat that goes on and off etc. Well Liam went nuts!!!


He refused to open any other presents and walked off to sit by himself with his precious Woody. He also discovered that Woody's hat was a good place for fruit snacks, as was his holster.


We then played pin the butterfly on the log, and the kids had to wear a curious George mask so they couldn't see. Man can you tell who cheats and who doesn't!!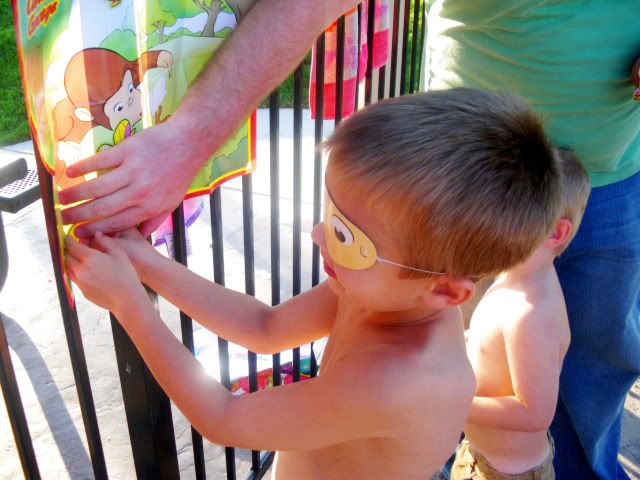 Abby thought it was a great party to and enjoyed being snuggled by many of her aunts and both Grandmas!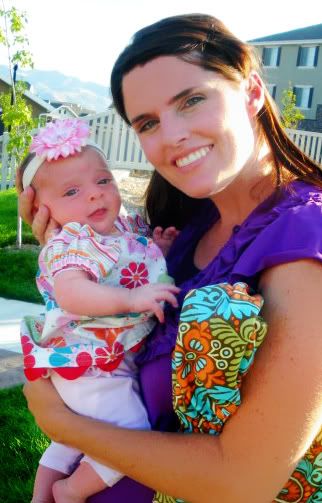 It was a wonderful party and I am so glad he could enjoy it with all his family. Tonight we will have another smaller get together which I am sure I will take more pictures at and post soon! Happy Birthday Lemers, as Sam always says we sure like you.