Alright so we are here. We have arrived. We are back! I am so excited to be back in DC. This city served me well while Chris was away. Of course Kerstin and Christa had a lot to do with that and my amazing job... Thank goodness Kerstin is still here (Christa you'd better visit soon). What is hilarious (although not really) is that whenever Chris and I embark on a grand new adventure together it always starts out fairly awful. When he headed off to Iraq (which was bad enough in and of itself) I found a large mass that had to be removed. When we started law school we were homeless for the first week, and had to rough it in a Marriott, during which time Sam contracted Roseola and was sooooooooooooooo sick. This time we had the whole flight incident. Then we had a very stressful packing/ moving up to DC day. We did get to enjoy a fun morning with Sams good buddy Thomas Lacy. I had a wonderful time catching up with Terish. The boys had so much fun in Elmo land.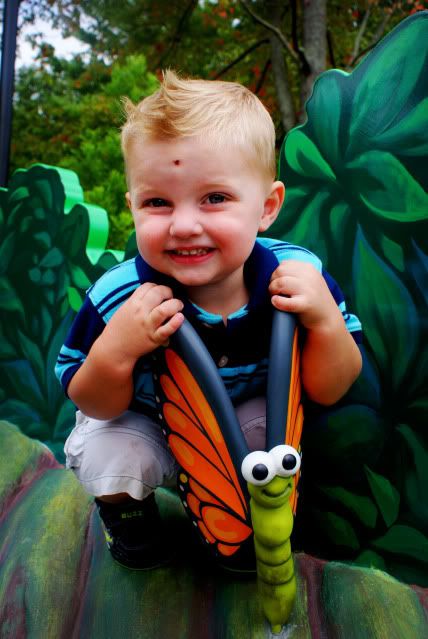 I had fun finally going on some of the rides now that I wasn't preggy.


They were pretty tuckerd by the end of day and we had to stack them up in the strollers.


The boys had fun watching movies

and sharing a pull out bed... and apparently a pillow :)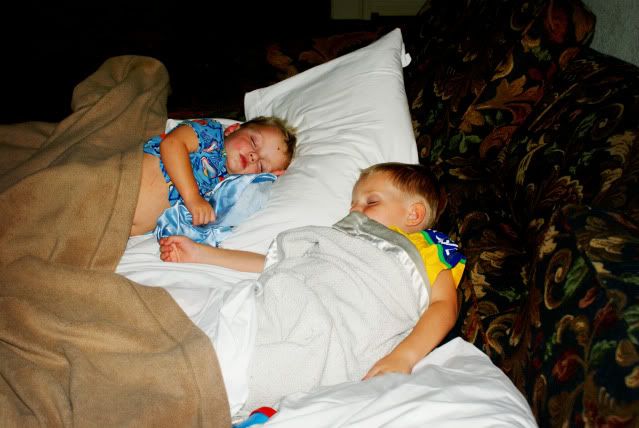 Once we finally GOT to our apartment complex lets just say I was bummed. Wow were my expectations WAY to high. When I had look up the place we are living at online I looked at their Sister complex which had hardwood floors, stainless steel, granite counter tops and were decorated immaculately. Yeah this is not that place. I knew I had to have a good attitude and kept telling myself this is TEMPORARY housing. I made a mental list of positives (everything is free: rent, utilities, phone, Internet, cable and maid service once a week, lots of space and beautiful grounds) and the negatives (totally outdated, no one in the surrounding neighborhood speaks English, fourth floor-- grocery shopping is a bear, the bathroom sink and vanity are IN the bedrooms not the bathrooms etc.) and realized it is so vain of me to get all upset because our apartment doesn't look like a Ethan Allen add. So I got over it and we started unpacking.


I was in the living room organizing our movies when I hear screaming coming from Liam and Chris says "Kelly get in here!" I ran in to see blood pouring down Liam's face and all over Chris's arms and hands. Apparently our little dare devil thought he could jump from his bed to Sam's-- and turns out he can't. After consulting with Chris's sister Kim who's a nurse, he headed off to the emergency room.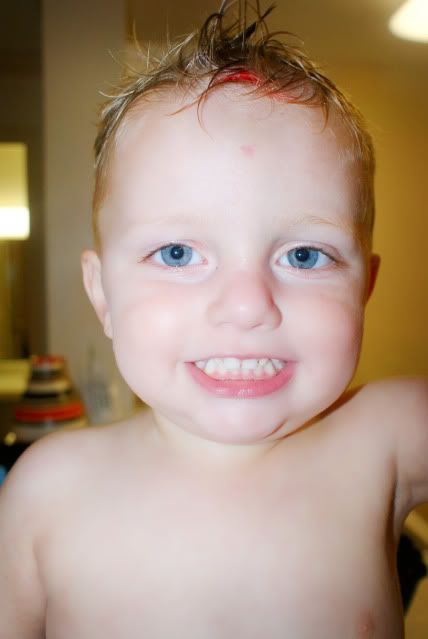 While there he ran into the play table making blood gush everywhere once again. I joked with Chris that at least they took you seriously then. It always seems to take forever in the emergency room and I often wondered what would happen if I walked in actually gushing blood. They took a big bed sheet and wrapped him up then strapped him to a papoose type board to keep him still. (This is why I did not go. I had a very traumatic incident when I was four and had to get stitch's in my hand. They put me in a straight jacket-- hello terrifying. It is my only vivid memory pre-age six). The doctor put some numbing gel on him and told Chris that some kids fall asleep during the process. She then injected some stronger numbing medicine and began stitching. Chris said Liam looked at him and said "Out Daddy?" twice and by the second stitch had fallen asleep! He came home and zonked for two more hours. I am sure this is the first of many stitches, casts etc. we will be seeing. I am just grateful that if it had to happen it did while Chris was home!